Maggior Qualità e Velocità
Notevole Risparmio energetico e riduzione dell'impatto ambientale
The reached maturity of the chemistry in the field of inks and varnishes favors the dissemination among the printers of the LED-UV printing technology.
To this end, we have created a new business unit for the sale and installation of LED-UV systems within our organization.
We offer the possibility of retrofitting any offset machine thanks to the exclusive sales agreement signed with our partner PrintabLED.
PrintabLED founded in 2012 is among the first companies in the world to have experimented with LED-UV technology for offset printing.
LED-UV ADVANTAGES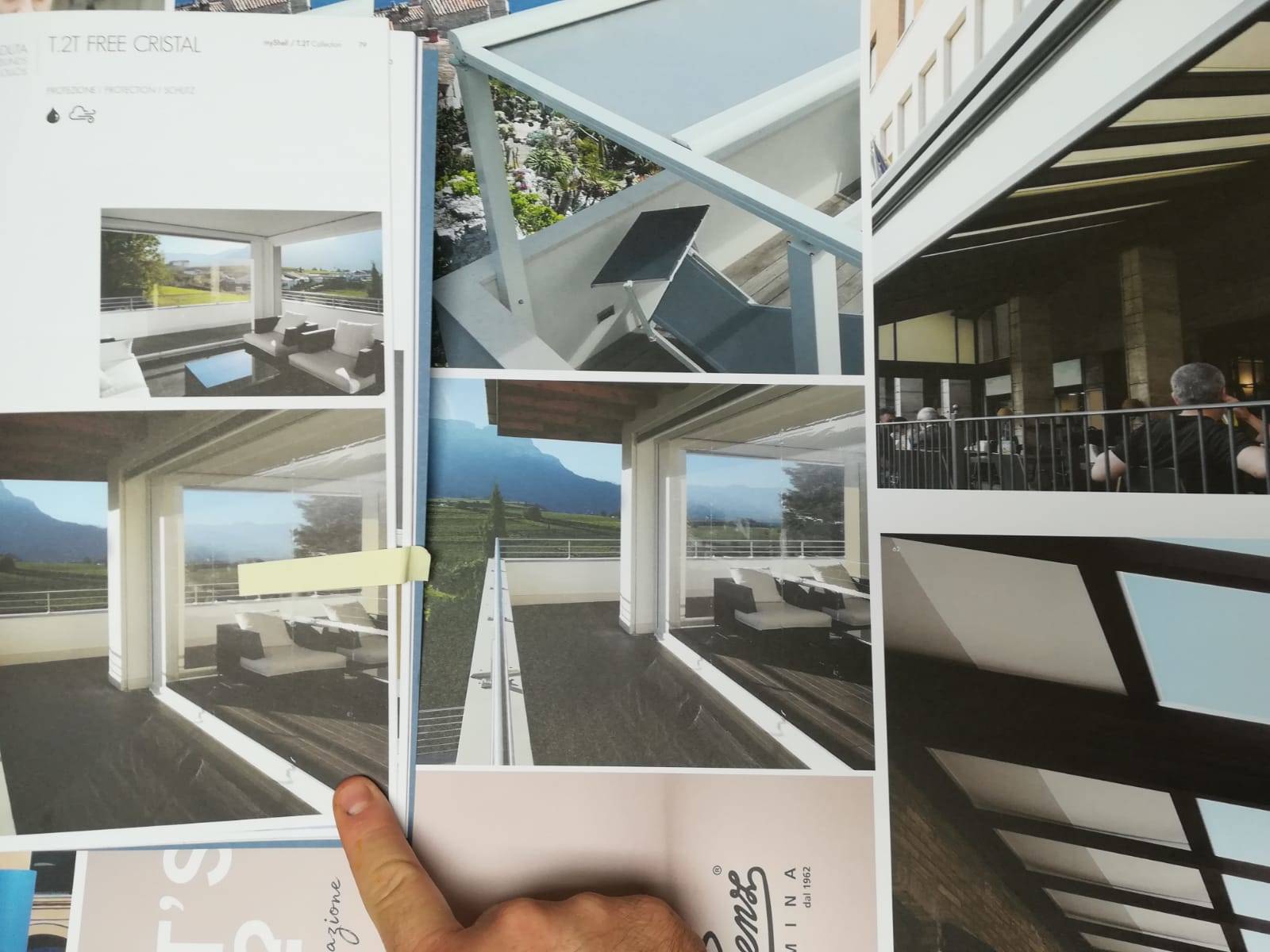 On the photo comparison between traditional print on the left and print leduv on the right
no heat transmitted to the material to be printed
perfect register also on heat-sensitive materials
increase in the life of LED-UV lamps compared to traditional lamps
strong savings on maintenance costs
immediate switching on and off, no need for heating times like traditional mercury lamps (soon forbidden!) UV - HUV - ITUV - LED-UV
possibility to set the LED-UV on according to the print format avoiding cleaning due to the polymerization of the ink in the periphery of the printing cylinder
dry sheet and immediately ready for subsequent processing
no ozone and UVC radiation, it improves the work environment and does not rust the machines
strong energy savings
easy installation
perfect and constant polymerization for the entire width up to the last day of life of the lamp (traditional mercury lamps (soon forbidden!) UV - HUV - ITUV - LED-UV are also a problem for this aspect)
Specification
Q-LED High-Power Modular

High power module (20-25W) suitable for the polymerization of inks at high speeds, its main characteristic is the ability to radiate considerable power in the absence of heat. Ideal lamp for final curing

LP-LED Medium-Power Modular

Medium power module (8-12W) suitable for the prepolymerization of high speed inks or for complete polymerization at low speeds. More compact emission window than Q modules, it is ideal as an interdeck on offset printing machines.

Control system that can be interfaced with most printing machines

Allows you to manage the operation and the power emitted by the various sectors of the lamp based on the profile of the ink fountain of the machine and the print area concerned

The ability to support the customer and fully understand his needs are one of the most important aspects of the company's offer, able to offer tailor-made solutions;

the experience and expertise of the technical personnel of both companies in the field of retrofit of LED-UV systems, represent the best guarantees for those who intend to approach this novelty

.

4.0 Industry without changing machine

From the Camporese / PrintabLED value proposal, printers can take advantage of innovating their company with an Industry 4.0 approach, moving to UV-LED printing without having to replace their machine and with relatively modest investments

4.0 Industry

Technological updating operations are rapid and guarantee immediate advantages in economic terms, durability and flexibility, thanks to customized ad hoc systems.

based on the specific needs of individual customers. Thanks to the new "GREEN" technology (without mercury and ozone created instead by UV - HUV - ITUV - LED-UV) having to install suction systems

It is not necessary to replace the urethane grippers with the steel ones in the cylinders!
Applicable on all conventional printing machines, UV - HUV - ITUV - LED-UV of each brand and format
Installed System Power (or Number Plate Power), one of the most important evaluation criteria of a LED-UV system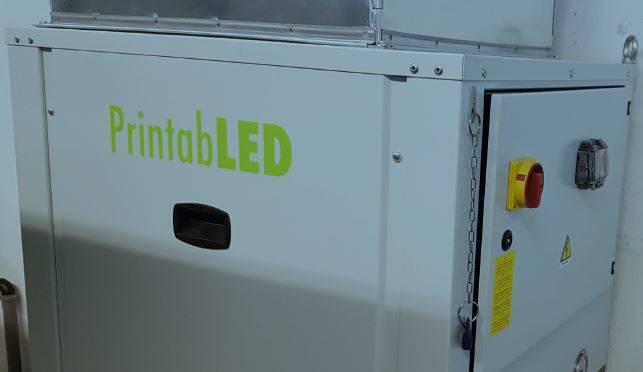 Unparalleled LED-UV performance thanks to our patents
In particular, it is useful for customers to ask the supplier to specify the Installed Power of the system (or Targa Power)
as it is a fundamental element of electricity consumption. This must include the entire system, including the cooling system!
References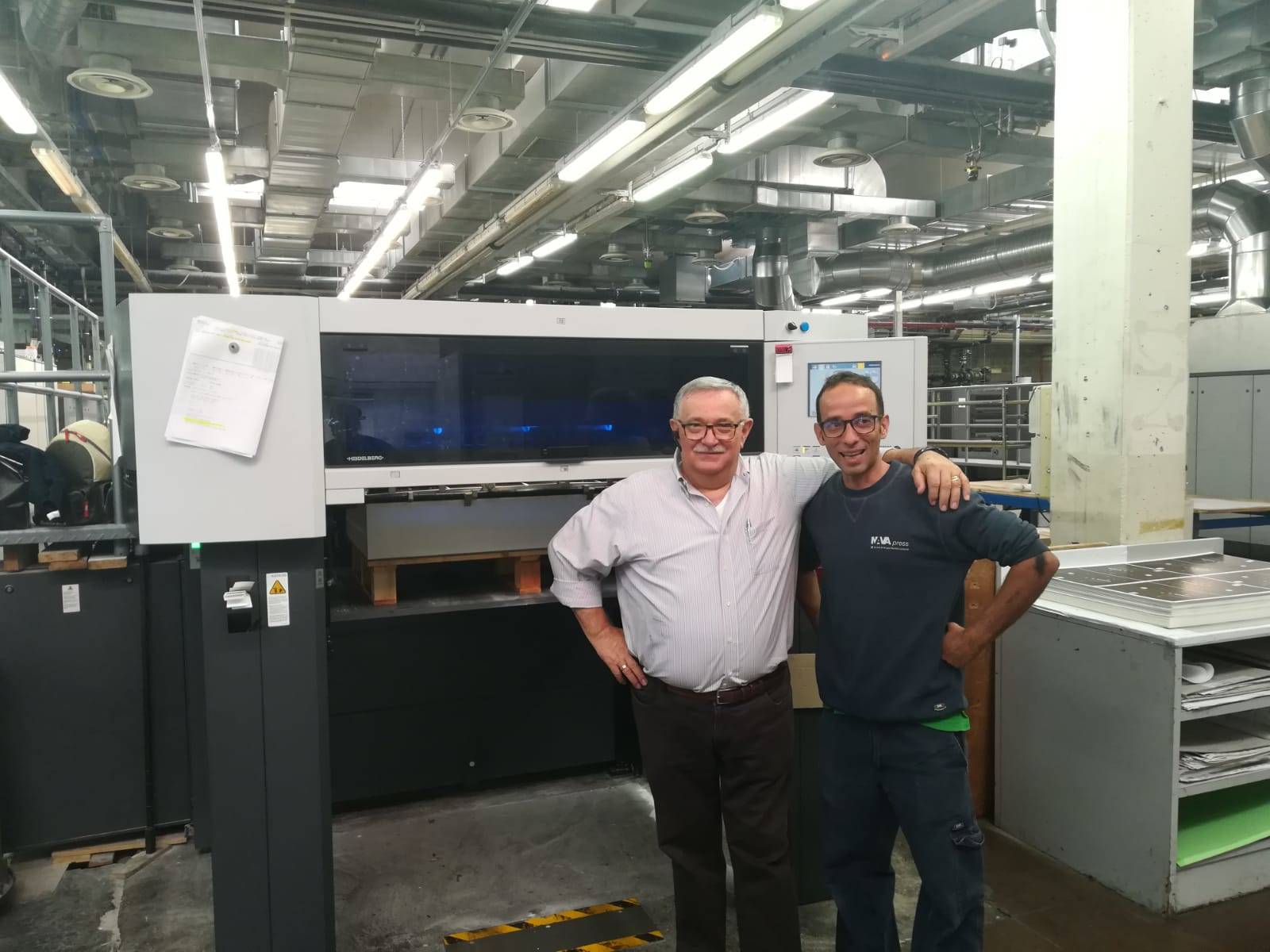 On the left M. Cavicchioli Production Manager Nava Press Milan with printer
Many successful installations in Italy. Multinational companies of printing industries, graphic industries, artisan companies with a fleet of 2 to 10 colors with or without varnishing unit use the retrofit system proposed by the Limena company (Padua) to their full satisfaction.
Between 2017 and 2018 more than 40 LED-UV systems were installed by Camporese on Heidelberg CD102-6LX, CD102-5, XL105-5LX, XL105-6LX, XL75-5LX; SM102-10P; KBA Rapida 145-6L, KBA Mailänder 280; Manroland R200; Manroland R500; Komori L529.
Thanks to the orders already acquired for the 1st quarter of 2019, we will increase our staff in charge of managing LED-UV systems, with the aim of continuing to guarantee our customers the usual quality standards supplied by our company for over 65 years.
Piano Printing Company of Asti - upgrade Led-uv on Heidelberg Speedmaster CD102-5
established reality for the printing of labels, packaging and shoppers, for over 40 years it puts expertise and passion at the disposal of its customers. Innovative facility of 3,700 square meters in Asti, to provide the largest number of services in the same place to optimize work cycles. Mauro and Riccardo Piano are at the helm of the company, and some questions have been asked about the LED-UV technology just installed on their offset printing machine.
Why did you chose to convert your machine from conventional to LED-UV?
The first idea was to change the printing machine, taking a more suitable one for paper converting jobs with coater, long exit and UV driers. After investigating the case I considered the current Heidelberg CD102-5 machines a valid "retrofit" alternative with the LED-UV dryers.
What are the advantages you have found with using the new technology?
Among the most important certainly the speed of ink drying on the sheet and the possibility of making high stacks of pallets without the need to "dyeing". Thanks to the applied UV-LED system we are able to produce two more work changes in turn. They are much brighter, with realistic colors that do not change over time.
How much has the offer of new printed products of your company grown?
Thanks to the UV-LED dryers we have acquired the possibility of printing on materials such as PVC-PP. silver or gold laminated sheets etc. that before were "off limits".
Camporese LED-UV PrintabLED? What are the reasons why you chose the technology?
I chose the Camporese family for the quality of the people and the reliability of the company, their LED-UV system was functional to our new production needs.
La Grafica of Zingonia - upgrade LED-UV on Heidelberg Speedmaster XL105-5+LX2
Heidelberg XL105-5LX supplied from Camporese, fully refurbished and guarrantied but with a competitiveness plus of a retrofit by Camporese WorkShop with LEDUV Technology.
goals:
amazing results, the sheet printed even at the highest speed goes out fully dry and ready for the following processing
XL105-5LX certified standard ISO LED-UV and delta 1
Tipografia De-Si of Novara - upgrade LED-UV on Komori Lithrone 529
Integration between software of LED-UV Camporese and Komori operative software console
goals:
printing on non-absorbent plastic supports that were unthinkable before

increase in the overall performance of the "old" machine without buying the new machine that had been in the program for some time

unparalleled performance compared to a new factory car but without this technology!
Arti grafiche Pacciotti - upgrade LED-UV su Heidelberg Speedmaster XL75-5+LX2
In 2014 Arti Grafiche Pacciotti contacted us to replace a SM74-5 with a newer machine to satisfy ever more demanding customers in the field of high fashion; we, from Camporese, have suggested a Heidelberg XL75-5 + LX2. Since then the company has increased its production capacity and print quality. Today, thanks to the ability to interpret the needs of its customers in good time, the Perugia-based company has decided to upgrade its machine to Camporese / PrintabLED LED-UV technology.
goals:
In addition to the lamps for the inks, the lamps for the paint have also been included, allowing use both for the glossy and matte UV-LED paint and also for drip-off both for paper and plastic.

possibility of guaranteeing ever better print quality and speed of execution of the work with an increase in standardization even on particularly accurate jobs
Officine Grafiche Muzzio OGM di Padova - upgrade LED-UV su Heidelberg Speedmaster SM102-10P
goals:
the printer further increased the quality of its printing jobs
international customers very demanding require a superb quality now possible with standard LED-UV Camporese
Sial Srl di Dossono di Casier (Treviso) - upgrade LED-UV on Heidelberg XL105-6LX2
Goals:
increasing of production capability
increasing of printing quality
internalization of the varnishing process
Nava Press Milano - upgrade LED-UV on Heidelberg XL105-6P3LX23 and XL75-8P+LX2
Goals:
increasing of production capability
increasing of printing quality
Albertini Packaging Group di Robecco sul Naviglio (Milano) - upgrade LED-UV on Heidelberg XL105-6LX2
Goals:
increasing of printing quality
Grafiche Gemma Srl of Borgoricco (Padova) - upgrade LED-UV on Heidelberg CD102-5
Goals:
increasing of printing quality
incredible printing quality and drying process on hand paper
Verona Stampa (San Giovanni Lupatoto - VR) - upgrade LED-UV on Koenigandbauer Rapida 105-6+ALV2
Goals:
increasing of printing quality
incredible printing quality and drying process on hand paper
Cursi Laboratorio Poligrafico of Pieve di Soligo (Treviso) - upgrade LED-UV on Roland R 505 LV
Goals:
incredible high quality on plastic material
quadrichromy on white on transparent plastic
Società Litografica Melegari of Pilastro di Langhirano - upgrade LED-UV on Ryobi 6 colori + Lackering size 50x70
Goals:
incredible high quality on plastic material
quadrichromy on white on transparent plastic
HMV Litho to Johannesburg Printing Company in South Africa - upgrade LED-UV on Heidelberg CD102-5 + LX2
obbiettivi raggiunti:
increasing of production capability
increasing of printing quality
References on metal can production
Metalscatola Spa of Telgate (Bergamo) - upgrade LED-UV on new Koenigandbauer Rapida 145-6ALV3
(Fanti Spa of Bologna - upgrade LED-UV on new Koenigandbauer Rapida 145-6ALV3)
in fase di collaudo
Goals:
increasing of production capability
Litoprint of Salerno - upgrade Koeningandbauer Mailander 280 2 c. + lackering and Silfa - MIlano - upgrade Koeningandbauer Mailander 280 2 c.
Metpack 2017 Innovation Award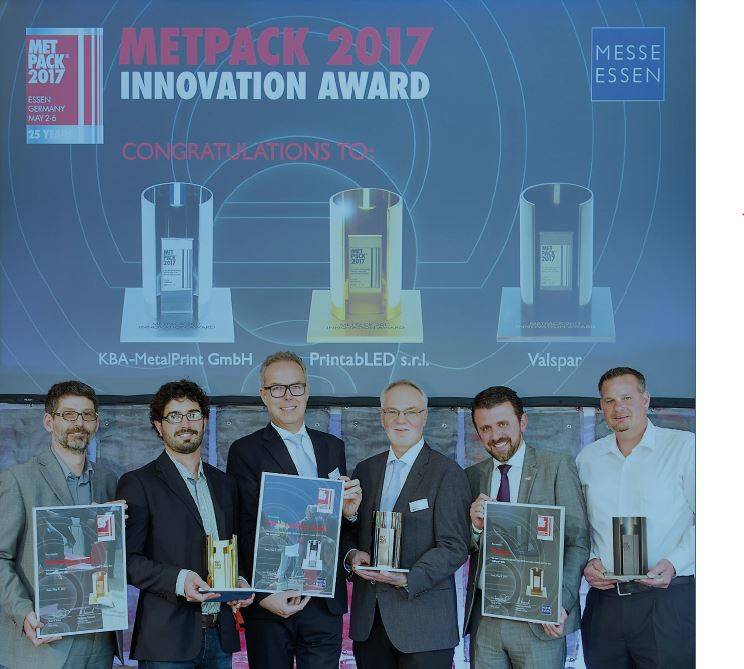 Left side our partners Massimiliano Dalpont and Ing. Patrick Montali
Our italian partner won 2017 industry GoldMETPACK Innovation Award
The jury awarded the company's LED-UV systems for other performances, the high level of energy efficiency and the very low environmental impact.
Book a LED-UV demo directly on your 

machine



(in the photo, one of the modules used for the test)




We guarantee the absence of pollution from the chemistry of your machine, including blankets and rollers that will not be compromised in any way!

Making a demo in about half a day and seeing the first dried sheet come out with our LED UV lamps directly on our customers' machines with us is possible!

If you are interested in testing our UV-LED system, contact us!
Possibility of financing and rental
For a financing proposal or an operational rental, contact us!
Contacts
Request a visit from one of our technicians
the Camporese staff will guarantee customers the necessary technical and commercial advice:

Enrico Camporese

enrico@camporese.it
Bruno Premutico bruno.premutico@camporese.it

Tel.

049 767166

consultancy and technical support directly from the Italian number 1 assembler and specialist

Massimiliano Dal Pont

installation and after sales: mechanical and electronic installations of Led ovens by Intelligent Service Srl, Christian Cassani, service branch of the Camporese Group based in Rho (Milan).
SCARICA LA BROCHURE